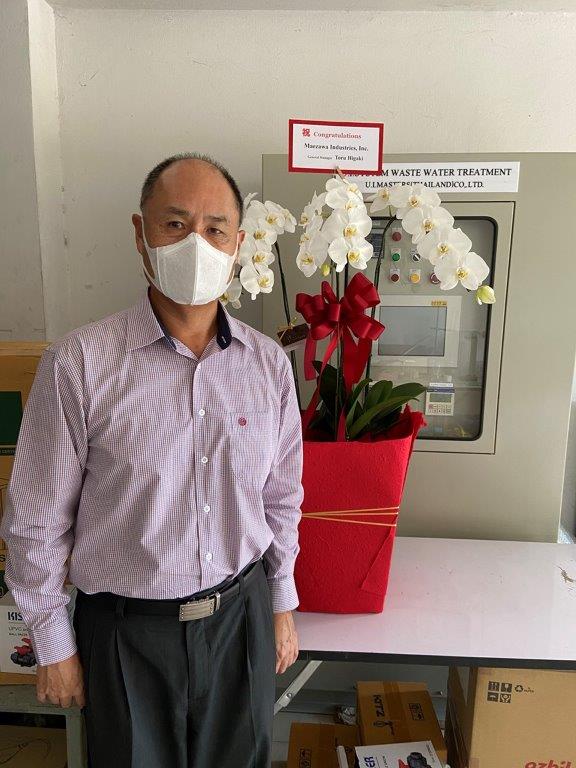 I received a phalaenopsis orchid as a gift from Maezawa Kogyo.
Happy new year to all of you.
Our company will celebrate its 10th anniversary on June 1st of this year. This is also your
Thank you very much for your kind cooperation.
Last year and 2019, we had 4 drainage facilities and RO (pure water) equipment.
We handled a total of 12 new projects, including 4 projects, 2 water softening systems, and 2 septic tanks. I think that I was able to help the user improve the environment and contribute to the improvement of the water quality used in the factory.
What kind of year will 2020 be?
It is said that Thailand's export business will decline due to the impact of the strong baht and trade friction between the United States and China, and that domestic demand will also decline as a result. As for the economic slowdown, we can feel the slump in the automobile industry, which is Thailand's main industry.
On the other hand, the government's efforts to improve the environment are active, and convenience stores and spas have abolished the supply of plastic bags from this year. This is because the government has determined that discarded plastic waste has a great impact on the environment. At the same time, exhaust gas regulations from cars have been strengthened, and consideration for PM2.5 can be seen. What is expected in the future is the tightening of regulations on wastewater.
The notice on wastewater issued by the Ministry of Industry (see attachment for details) states that when wastewater is discharged from a factory, it must pass the environmental standards through the drainage facility. This applies not only to industrial estates, but also to factories located on general land. There is no specific legal statement regarding the punishment of violating companies, but it is said that the government's environmental agency and the industrial park supervision office will respond in a timely manner. Just as the government's measures against plastic waste were enacted suddenly, there is a high possibility that regulations on wastewater will also be enacted suddenly. Or, a law may be enacted to temporarily suspend the factory until the environmental values ​​are cleared by installing a drainage system. As a method of treating wastewater that cannot be discharged outside the factory, there is a method of having an industrial waste disposal company take over. Recently, as in Japan, the manifesto has been linked to the disposal site of the disposal company, making illegal dumping impossible. As a result, disposal fees may increase in the future. Previously, it was around 2,500 baht per ton, but last year the market price jumped to 5,000 baht per ton. The monthly cost for treating 1 ton of wastewater per day for 30 days will reach 150,000 baht (approximately 530,000 yen). Last year as well, we submitted a cost estimate for the introduction of wastewater treatment facilities from three companies. We have not yet received a decision to install a drainage system from the company, but we believe that a decision will be made in the near future. After introducing drainage equipment, cost-effectiveness against industrial waste costs
Therefore, we will guide you from 1.5 years to 2 years.
In addition, this year, it is expected that the government's environmental monitoring will become stricter not only for factories established on general land, but also for automobile repair shops.
Among the environmental figures, oil treatment is expected to be a particularly important topic.
In most factories and automobile repair shops, an oil-water separation tank called a grease tap is installed. However, this grease tap is effective only for floating oil that floats on the surface of the water, and is not effective for dissolved oil that dissolves in waste water. In addition, if the floating oil is not removed manually in a timely manner, the accumulated oil will flow out and the oil will not be removed. The oil adsorbents we propose can handle both floating oil and dissolved oil. Over 500 locations in Japan, maintenance shops and JR
It is used in cleaning facilities. We would like to encourage new customers to introduce it and help improve the environment related to wastewater in Thailand.
Regarding the RO equipment, due to the deterioration of the water quality of the city water supplied from the industrial park in Thailand,
As a result, the number of orders received has increased every year. When cleaning the final product,
RO water is indispensable. chlorine, sulfur, minerals, etc.
If the final product is washed with a large amount of city water, it may cause coloration and rust on the product.
It has become a big problem. RO water is water that can be safely used for cleaning final products, or that can be safely added to paints and lubricating oils by excluding these items by filtering them with a reverse osmosis membrane.
Also, last year, we collaborated with a cooling tower manufacturer to remove hard water.
We have installed a water softener to soften the water. The water in Thailand is hard water containing a lot of manganese, calcium and silica. If it is passed through the equipment as it is, scale will form on the piping, and there is a risk of the piping bursting. As a preventive measure, we installed a water softener.
This time, we introduced drainage equipment, RO equipment, and water softening equipment.
No matter what equipment you purchase, we design, manufacture, and install it 100% in-house, and we provide free maintenance services for six months to one year for all equipment.
We hope that this report will help you in your environmental efforts this year.
U.I.Masters(Thailand)Co.,Ltd.
Atsuhiko Kondo, Managing Director