There was a request from the customer to use the Songkran holiday to newly install our drainage system from the existing drainage system, so we have installed the new drainage system as follows.
Existing system

Continuous coagulation-sedimentation  ➡ treated water ➡ Discharged outside the factory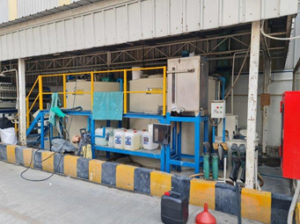 *Existing drainage system
Since it is a continuous system, it takes a long time to react with a continuous sedimentation tank, making it difficult to adjust the pH.
It takes a lot of manpower to remove the sludge cake accumulated in the filter press twice a day. The processing capacity is limited, and there are cases where it is not possible to clear the industrial park standards.
New system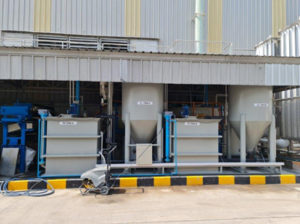 * Batch type fully automatic double coagulation sedimentation system (double U.I. system)
First coagulation sedimentation tank ➡ Second coagulation sedimentation tank ➡ Treated water is discharged outside the factory
Computer program control automatically adjusts the pH of each coagulant sedimentation tank.
In addition, the amount of medicine to be discharged can also be set on the touch panel. The only thing that requires human intervention is replenishment of chemicals, removal of dry sludge accumulated in the filter press, and cleaning.
Double U.I. system spec details
Specifications:Batch type 2-step fully automatic coagulation sedimentation system
Space used:4900 (W) x 12,000 (L) x 3500 (H) Unit: mm
Processing capacity:1,000 L/Batch(20) minutes 3,000L(3M3) per hour.
Treatment target:Fluoride raw water (140 mg/L)
Treated water : Fluoride treated water (less than 4 mg/L) Industrial park standard is less than 5 mg/L
Installation period :45 days (on-site installation period is 14 days)
(Photo when installed)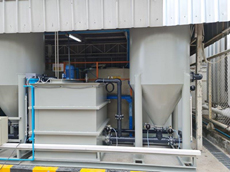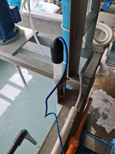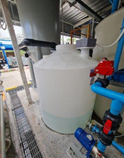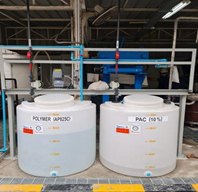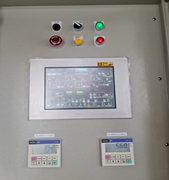 We believe that the development of this double UI system will make it possible to treat not only fluoride but also wastewater containing hexavalent chromium.